Surprising to most of us, we don't have just one breath.  There are several types of breathing that our body employs and it changes throughout the year, throughout our lives, and depending on our emotional state.  Reverse breathing is a natural body process that we can consciously manipulate to improve health.  Let's discuss the importance of reverse breathing to the internal arts, dispel some negative ideas, and offer some simple instructions to improve our practice.
What is reverse breathing?
Reverse breathing is the process of inhaling as the abdomen constricts and exhaling as the belly relaxes.  It is used in internal arts to:  move energy around the body, heal joints and tissue by focusing intention and breath on an area, deepening a meditative state, and storing energy to issue power (fa jing).
Is reverse breathing bad for you or unnatural?
Reverse breathing has gotten a bit of a bad rap as being dangerous for us because of the manipulation of breath that is included in hard qi gong practices and other more advanced (read: should have a highly skilled guide) internal arts.  However, reverse breathing is a completely normal process that is normally undertaken by the autonomic system and the subconscious.  Here are three examples:
Emotional Reactions
When your emotional mind is amped up your body switches your breathing so that you can flee, scream, or attack.  Think of someone jumping out from behind a door to scare you.  Your whole upper body is tense and your stomach remains taut but you still manage to rapidly inhale deeply to scream.    Belly laughter is also reverse breathing.  Crying is typically fast reverse breathing with your belly expanding on the exhales.
Yawning
Did this picture make you yawn?   When we yawn we inhale profoundly and slowly while controlling our core muscles.
Pushing a car
You would not try to push a car while regular breathing or you would injure your back.  Assume a pushing posture and imagine a heavy object you are about to move.  What happened to your abdominal muscles?  They automatically tensed to employ the stable force of the ground.
We can actively engage this natural breathing process for health and martial benefits.
Reverse Breathing Benefits
Mindful breathing is central to all internal practices.  According to internal practices such as tai chi, qi gong, or yoga, when we inhale we are bringing healthy energy (qi) into the body and when we are exhaling we are expelling used or toxic energy outward.
Reverse breathing is the basis for leading qi to injuries to enable healing.  When we inhale we place our attention on the joint.  When we exhale, we bring the breath out to the surface of the skin.
Reverse breathing benefits us by allowing highly oxygenated breath to permeate the body.  Decreased oxygen intake correlates with most health issues: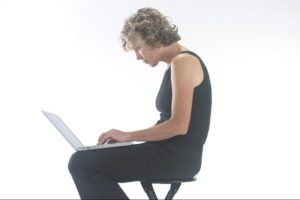 Weakness from illness
Weakness from muscle loss due to age
Weight gain realigning intercostal muscles and putting pressure on the chest.
Exposure to allergens and toxins (emphysema , asthma, pollen allergies, etc.)
Postures related to fear
Postures during poor sitting
In the winter we inhale longer than we exhale to retain energy and close the pores of the skin.  Summertime brings the opposite reaction as we exhale longer to lead heat out of the body.
How to practice reverse breathing
Reverse breathing is most easily practiced by thinking about two body parts.  We need to maintain the 1) abdominal muscles and elevate and relax the perineum (Huiyin Cavity).  This Dummies webpage has a really good description of the perineum if this is new for you.
Before we start, it is important to note that we are manipulating the abdomen and the perineum as we respond to the breath.  We are not forcefully moving the body parts to cause ourselves to breath differently.
Secondly, the pressure and pushing involved in reverse breathing is extremely gentle.  Hard Qi Gong styles ramp it up here but this is not what we are discussing.  It is a slow, light, meditative sensation that we are after.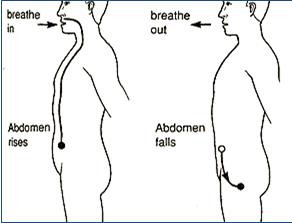 The abdomen
Breathe deeply and maintain the ab muscles as they are.  It will feel as though your breath is actually sliding down your back and filling the abdominal cavity with pressure.  Exhale and relax your stomach.  No one is watching. Embrace your inner Buddha and let the belly out.
The Perineum
The Huiyin (literally: meeting of Yin) Cavity is considered the gate and meeting point of the 4 Yin Vessels.  As you inhale you gently pull up on the anus from the inside.  No puckering or tilting your pelvis.  As you exhale you let the perineum drop and the anus relax.
Know that this process is awkward at first and takes practice.  Newcomers often unintentionally create tension in the abdomen which causes us to hold our breath.  Start small with shorter breathes and in a seated position.  Concentrate on practicing the breathing in isolation before trying to (re-) incorporate the breathing into qi gong, yoga, or martial movements.   Frequent short practices are best.  I first got the hang of it by practicing when caught at red lights!
References:
Qi in Taijiquan is an Intention Wave:  Tai Chi Magazine.  Vol 39, No. 2.