Changes in the world are bringing us face to face with isolation, loneliness, and the feeling of being separate.
We are social creatures. We thrive when there is connection. Even the most introverted among us bask in the attention of our partner, sibling, or parent. When these connections are reduced, we are often left with a desperate ache to be together. We may even want to reach out to people who we wouldn't have in normal circumstances. It's just the idea that the option has been taken away from us that makes us uneasy.
And like with so many of life's problems, does Tai Chi provide us with some solutions for ways to ease our suffering?
I believe it does.

World Tai Chi & Qi Gong Day
World Tai Chi Qi Gong Day (WTCQD) is held each year on the last Saturday of April at 10:00 am local time, worldwide. The intention of this event is really noble because as each practitioner steps outside at that time and begins their form or meditation practice, a wave of chi (positive energy) is sent around the world. It is also a way to unite all of us that share in the pursuit of these age-old traditions, improving our health, wellness, and our interactions of those around us.
This idea holds significant meaning in times when we are unable to meet, be with loved ones, or are forced into isolation. This brings up significant questions:
Why do we suffer from loneliness?
Are we truly alone?
Is there a way to not feel alone or miss people when I am isolated?
Even when people are around, why do we sometimes still feel alone inside?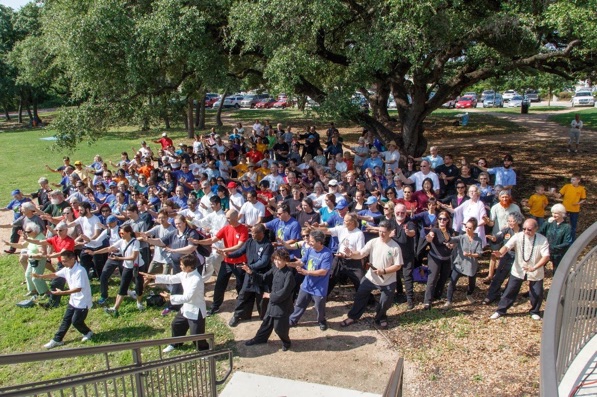 In the community I live in, we are really fortunate because most of the tai chi schools get along really well. Each WTCQGD we meet in the same place. Groups practice individually at first, then we come together and different instructors lead different qi gong or tai chi sets for the whole group. Afterwards, some instructors offer short demonstrations which is always a fun way to see different styles.
You leave feeling happy to have met so many people who share the same interest. Doubly important for those of us that don't train with a school because we are reminded of how many people from so many different cultures and walks of life are sharing in the same pursuit.
Tai Chi and WTCQD have a greater message to teach us that can carry us through darker times and definitely throughout the year.  To best understand how Tai Chi helps us move past loneliness we need a better definition of loneliness to begin with.
Two Different Types of Loneliness
There is a loneliness we feel when we are separate from others and there is a loneliness that we feel inside when we are not connected. Let's call these External and Internal Loneliness.
External Loneliness
It's hard to deny the loneliness that occurs when others are not physically present. We are truly a-lone-person. It is also easiest to remedy by joining a loved one, calling a friend, or just getting out in public…unless we can't (global pandemic anyone?).
Adyashanti, in his book Falling Into Grace, offers us another option: to work to not feel this loneliness at all. He does a really great job at distilling down the Buddha's teachings on suffering by breaking it down into practical terms. Basically:
If you continue to look to interactions with others to not suffer from loneliness, you will be successful most of the time. However, this will take continual effort. What happens when things are out of your control? Such as a divorce, an injury, a job transfer, a virus…

A greater pursuit would be to realize that you are not suffering from being alone. You are suffering from the illusion that you are alone.
You can see that this idea begins to shape itself into a highly metaphysical construct: the idea that we are ONE with everything and ONE with the universe. I get this on an intellectual level but would not begin to pretend that I can manifest this degree of wellness when my emotions are in play.
Thankfully there are much simpler ways to "manifest connectedness" and all it takes is imagination or memory. Thinking through everyone that we are connected with present-past-future, work-family-community diminishes this sense of loneliness. True, sometimes this can sometimes increase the sadness if you miss them, but it doesn't diminish the connection.
How Tai Chi Reduces External Loneliness
Millions of people across time have learned and progressed through the movements of the tai chi form. Qi Gong and meditation are even older with some sets having been practiced for 1500 years. Thousands of people are practicing at this very moment that you are reading this. You just need to go outside, or just close your eyes and inhale and exhale to join them. You have put in the hard work to learn your form. You have joined an elite tradition of people spanning several generations. You may even be teaching practitioners that will carry it forward long after you are gone.
So, it is difficult to feel lonely when you concretely understand your role in carrying on this tradition that spans generations and know that your efforts have earned you the right to interact with thousands in this present-day shared experience.
Internal Loneliness
Internal loneliness stinks. It is standing in the middle of a concert of thousands of people who are having a great time and feeling alone. It is posing for a family picture and feeling that no one beside you has any clue who you actually are. Try explaining this to anyone and it won't make sense. Yet it hurts.
Here we have the opposite problem, right? We can be in a sea of people or around family members who have known us forever and we describe it with the same words – feeling alone. How can this be?
Back to Adyashanti. Again, I love his writing because it's practical and leans heavily on Eastern thinking to help us come up with a permanent solution. The type of solution that doesn't just solve a problem but makes the problem irrelevant.
On the inside, we suffer from the illusion that we are our thoughts and that we control our thoughts. This just isn't true. Our thoughts run on, independent of our control. Their positive or negative nature are out of our control.

Sometimes when people are not allowed their external distractions such as activities or work, they are left with having to confront their thoughts. These can be positive distractions such as exercise or negative ways we might numb ourselves to not have to face more difficult questions. Either way, it is just us and our thoughts. If we see ourselves as our thoughts, we are at the mercy of whether those thoughts are positive or negative.
Again, we have two paths we can take:
 We can work to distract ourselves or create positive thoughts. This takes continual effort and only works until it doesn't. When something out of our control removes the distraction such as an injury that doesn't allow us to exercise, we are left with our thoughts again.
We can learn to see ourselves as separate from our thoughts so that we can coexist alongside them. This isn't to say that we judge or change our emotions, we just know that it is an experience we are watching or having, separate from ourselves.
How Tai Chi Reduces Internal Loneliness
Tai Chi and meditation give us an opportunity to practice functioning along side our emotions and thoughts so that we are comfortable being alone with ourselves when it is out of our control (again, global pandemic anyone!?).
We move our body through the familiar sequence of the form and concentrate on our breathing while our mind races on about anything BUT tai chi. This allows us to anchor ourselves in our own physicality as we watch the mind and emotions  race on. The physicality of the form's movements tethers us to what is real, so that we can juxtapose it against our thoughts, which are not.
"Bad" meditation sessions are us nesting within our body and mind and allowing all of our worries and concerns to play out without physiological or emotional reaction. This creates the duality needed to separate us from the illusion of our thoughts. If we are able to see our thoughts and emotions as separate from ourselves, this is the first step in releasing ourselves from the suffering that the bad thoughts or negative emotions cause.
This is something I really love about Tai Chi: It both presents us with an understanding of a problem and a solution for how to move past it.
It is like the perfect coworker who not only brings issues up but also offers a way to solve it.
O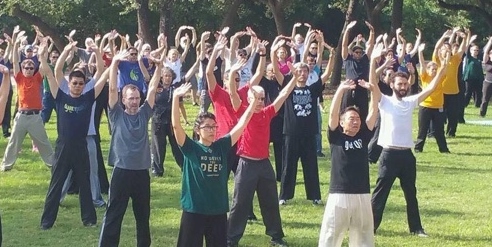 n the last Saturday of April.
At 10:00am.
Step outside.
Bow.
Breathe deeply in and out.
Step out to the left.
And allow your arms to raise up in front of you.
I will be right there by your side.
As will thousands of others.
So many practitioners that you can almost be guaranteed that at any moment of any day if you do the form you are not alone.
This is (another!) one of Tai Chi's gift to you:
You are never alone.
---
Resources
Author's note: Segments above where the author's interpretation of Adyashanti's teachings in Falling from Grace, not direct quotes.