For those of you wanting to learn how to develop physically, consciously, spiritually, how to heal, or build your internal strength, there is possibly no greater source than Mantak Chia. He is one of the most advanced, living, masters of the internal arts. And if that's not enough, he has been a prolific writer and continues to teach so he is accessible to almost anyone, practicing anywhere, at any price. 
Mantak Chia is a Taoist master who created the Universal Healing Tao System to teach Taoist physical, internal, and spiritual cultivation techniques. He has published over 60 books, created videos and courses, teaches internationally, and founded the Tao Garden Retreat Center in Thailand where students learn in-person. 
I feel compelled to tell you about Mantak Chia for three very important reasons. Anyone with martial, physical, mental, or internal goals benefits from his work. Think about that. When a student asks how to progress on a multitude of goals, I am almost always recommending Mantak Chia books alongside anything I am suggesting. 
Secondly, I have been doing two of his practices daily for over a decade and credit that tiny habit with having an enormous impact on nearly everything I have accomplished in my life. It has just made things doable, easier, progressing, fun, and better. I want to share how applicable his teachings are. 
Lastly, no other teacher I can think of has put so much time into making his work (and himself) accessible. We're talking books, videos, courses, social media, YouTube, workshops, and even building a retreat center. Let's take a walk through his life, teachings, and at the end I provide a list of all the ways you can find him.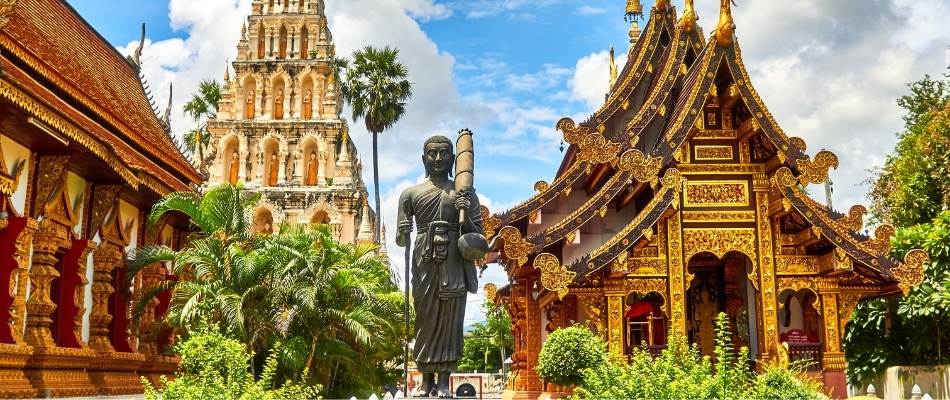 A Quick History on the Birth and Life to Date of Mantak Chia.
Mantak Chia was born in 1944 at a very crucial time in Thailand. Thailand supported Japan during World War II and used the alliance to get out from under French colonial rule and also to attack neighboring countries to expand its territory. After the Japanese loss, Thailand ceded all the territory it had claimed in return for financial aid and political neutrality.1
So as a young Mantak Chia was turning six, he entered a society that was connected to the international community but free from the civil wars and colonial oppression that plagued its neighbors. As an example of how liberally different this time was, he was raised in a Christian household by Chinese parents and spent his youth studying internal and external martial arts as well as Taoism and Buddhism. 
Mantak Chia studied Taoism extensively, structuring a system to understand the practices which lead to the building and transmission of internal energy. Added to this was a few years studying anatomy and western medicine before he opened a retreat center in Thailand in 1974 and began publishing books on the subject. Mantak Chia's fame began to spread after opening a study center in New York in 1979 where he continued to write and train Western students. 
In 1994, he returned to Thailand and opened what is now the Tao Garden Retreat Center. Despite being about 80 years old, Mantak Chia continues to travel to teach as well as giving workshops at the Tao Garden Retreat Center in Chiang Mai, Thailand.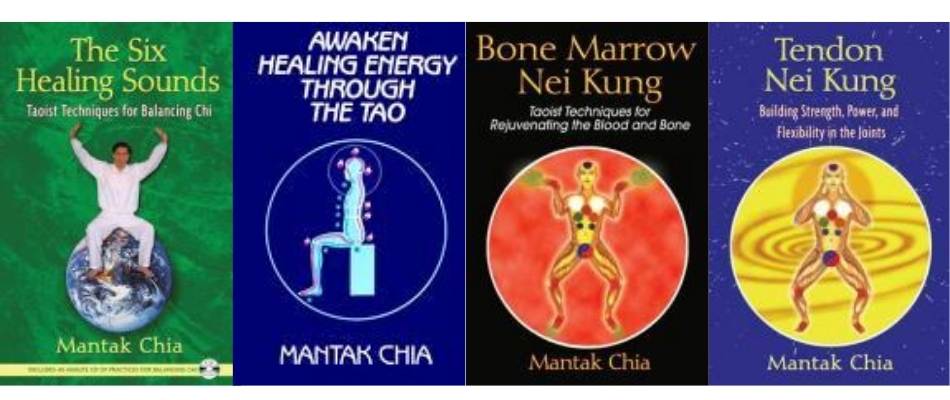 The 60+ Books By Mantak Chia
With over six decades of teaching and writing, you can imagine that the number of books by Mantak Chia is not only extensive but that he has put some time into refining his theories and thoughts. What is unique to his writing style is that he covers an extremely wide list of topics but primarily retains a single theme throughout:
"The universe has an abundance of energy that can enhance and multiply our enjoyment of life. All that we need to do is to be connected to the source."

The Healing Energy of Shared Consciousness – A Taoist Approach to Entering the Universal Mind
The initial Mantak Chia books teach different activities or practices that introduce us to the internal energy in our body that is responsible for our youth, health, and mental well-being. For people that have woken up to this energy and can sense it, there are writing on how to strengthen it by opening "qi channels" in the body. Higher level Mantak Chia books focus on "Inner Alchemy" which describes transmuting one type of energy into another and building it to a level that it not only benefits you but those around you. 
Here is a list of some of the best Mantak Chia books in order by year. Best thing to do is to check out the reviews on Amazon to find a book that matches where you are in your development and what you are interested in. Then I want to discuss a few of the best on internal development and talk about why some of these books are so controversial. 
Mantak Chia Books in Order By Year
Awaken Healing Energy Through the Tao – 1983
The Multi-Orgasmic Man – 1996
Reflexology – 2003
Healing Love Through the Tao – 2005
The Inner Structure of Tai Chi – 2005
Chi Self-Massage – 2006
Iron Shirt Chi Kung – 2006
Bone Marrow Nei Kung – 2006
Chi Nei Tsang – 2007
Fusion of the Five Elements – 2007
Healing Light of the Tao – 2008
The Inner Smile – 2008
The Alchemy of Sexual Energy – 2009
The Six Healing Sounds – 2009
Tendon Nei Kung – 2009
The Multi-Orgasmic Woman – 2010
Taoist Foreplay – 2010
The Art of Cosmic Vision – 2010
The Healing Energy of Shared Consciousness – A Taoist Approach to Entering the Universal Mind – 2011
Multi Orgasmic Couple – 2011
Tai Chi Fa Jin – 2012
Chi Kung for Prostate Health and Sexual Vigor – 2013
Chi Nei Ching – 2013
Basic Practices of the Universal Healing Tao – 2013
Chi Kung for Women's Health and Sexual Vitality – 2014
Craniosacral Chi Kung – 2016
The Eight Immortal Healers – 2017
EMDR and the Universal Healing Tao : An Energy Psychology Approach to Overcoming Emotional Trauma – 2017
Best Books by Mantak Chia for Tai Chi Practitioners
Below are four Mantak Chia books which I absolutely love because they lead to progress and cover topics that we still don't have a lot of information on in the West. The teachings of the Tao are in alignment with the teachings of tai chi. In an interview, Master Mantak Chia explains:
The Six Healing Sounds – 2009
The Six Healing Sounds is the easiest way to be introduced to the healing and meditative aspects of qigong. It is purportedly the oldest qigong meditation teaching tones that you vocalize that match the vibrational frequency of colors and are associated with specific organs. Mantak Chia's 6 healing sounds exercise is easy to do and is effective. If you "think you can't meditate" or are even bored of meditating, this is an easy practice to keep going. Aside from the book, he also has an online course on the six healing sounds.
Tendon Nei Kung – 2009
We know that practices like tai chi or yoga get us in good shape and flexible but there is more to it. Tendon Nei Kung shows the relationship between internal practices and the healing that is brought back to the muscles and tendons that restore our youth. Even if you don't add the suggested exercises to your regime, learning about the physiology in the movements of qigong, yoga, and tai chi gives you a better understanding of what you doing and makes your practice better. 
Bone Marrow Nei Kung: Taoist Techniques for Rejuvenating the Blood and Bone – 2006
Like the last book, learning about the relationship between the development of bone marrow and blood cells is vital for understanding how our health works. Learning about Mantak Chia's bone breathing was fundamental for me to understand what was going on physiologically during standing meditation which has kept me practicing every morning for years. You don't always "feel better" by meditating. But, when we have the knowledge about how it is contributing to your health it makes the practice really hard to skip.
Awaken Healing Energy Through the Tao – 1991
I saved the best for last. Every morning for thirteen years now, I do the microcosmic orbit meditation that I learned by reading Awaken Healing Energy Through the Tao. I wrote more extensively about it in a separate essay but here is the long-story-short. 
It took me several months to feel energy in my body, move it around my torso, circle it through my torso and head, and then circle it through my entire body including my legs and arms. Now, the entire cycle of nine circles can take less than five minutes so I can practice it anywhere. As a bonus, I can easily tell when my energy is low. This is the most progress I have ever made with anything simply by reading.  
Controversial Topics in Mantak Chia's Books
You will notice from the list above that there are a lot of books that have to do with sex. The less risqué topics start off talking about Chi Self Massage. It gets a little bit more bawdy when Mantak Chi heads into topics like Cultivating Male Sexuality. Then it is pretty much off the charts shocking when he explores orgasms. 
If you are a little put off by this you are not alone. There are writers who look down on Taoist writings like this because they accuse them of creating inflammatory topics to attract western audiences. I have a different opinion on this so hang with me for a minute. 
Sex and sexualism is not as taboo in some cultures as it is in the West. Secondly and more importantly, in their quest to explore energy, pretty much everything has been fair-game for Taoists. They have tried potions, poisons, and elixirs of every type in an effort to understand how our body gains and loses energy. There is a clear rise in energy and change in disposition from "healing love" and intercourse. It makes sense that this energy would be researched and explored. 
The best way to get the full picture on this is to watch some of the London Real Mantak Chia interviews. If you are not familiar with it, the London Real channel explores hopeful and positive topics. 
---
Mantak Chia Classes that Are Live to Attend Online
Mantak Chia's classes are held throughout the year. He rotates through his curriculum with the introductory level courses being the most popular. You can go to the Universal Healing Tao website to see what is currently being offered. 
Mantak Chia Courses Online that Are Recorded
6 Healing sounds: Healing Qigong with legendary Mantak Chia
For those of you interested in the six healing tones that I mentioned above, he put together a really nice online course that is very inexpensive. I think that this is the quickest way to get introduced to him, his work, and get up and running with one of his daily practices. 
Mantak Chia Classes at Workshops and The Tao Retreat Center
For the traveler, you can study at his retreat center in person. There is an expense to this of course, but if you have decided that this is your life's pursuit, how many living masters do you have the opportunity to train with?
You can find out about what he is currently offering in-person here.
Contact and Connect with Mantak Chia
Wow is all I have to say about trying to find out what he has going on. His desire to share the original message he learned from his Taoist Teacher Yi Eng and the Dragon's Gate school of Taoism has never faltered. You can literally follow the current work of Mantak Chia in the way it is most convenient for you.
Mantak Chia Facebook: MasterMantakChia
Mantak Chia on Twitter: # Mantak Chia
Instagram @mantak_chia
Mantak Chia Website
Resources: 
Tai Chi Basics is a participant in affiliate advertising programs like Amazon designed to provide a means for sites to earn advertising fees and cover expenses.