Davidine Sim and David Gaffney have put together a new book which shares interviews with 8 of the greatest (and currently living) tai chi grand masters.  Chen Taijiquan: Masters and Methods contains great information to help us along our path regardless of which style of tai chi we study. You may recognize their name from their other books: Talking Chen Taijiquan and Chen Taijiquan Illustrated which in their own way helped demystify several aspects of tai chi.
About the Book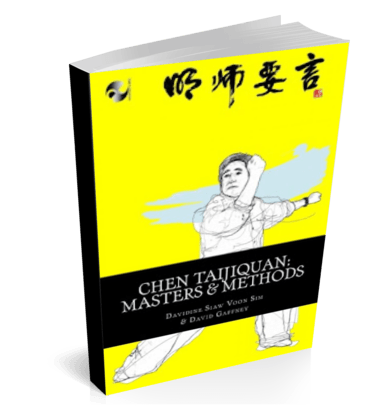 Chen Taijiquan: Masters and Methods is a tai chi book written in interview format of 8 of the greatest living Chen Tai Chi Grandmasters. Practitioners of any tai chi style will enjoy it because it does not head into style-specific jargon or content but covers each master's ideas on:
Training methodology
Suggestions for making and measuring progress
What is essential for advancing in tai chi
How tai chi has changed and is changing.
What I love about Chen Taijiquan: Masters and Methods:
Organization
Some care went into the organization of the book and the ordering of the questions.  Several questions were asked of each grand master so you get a real overview from different points of view about the essentials of tai chi.  At other times, the interviewer allowed the conversation to head in the direction that each master valued most so you get very clear teachings on these topics.
Positivity
I love the positive nature of the book.  Each master independently made a point of supporting the efforts of all styles of tai chi and also honoring each of us at our current level of development.   This includes specific mention of all major styles.  This is a far cry from the "my style is better than your style rants" that fill so much of the internet.  If these gentlemen are this accepting, I think it is a lesson for us all.
Humility
One book could be written for each individual in this book based on their accomplishments alone.  Yet, they all uniformly described their efforts to contribute to this thing that was greater than them and their hopes that they have made an impact.  Truly humbling and also motivating to think that each one of us is contributing to something historical and also to a greater good.
Technical Descriptions
In Chen Taijiquan: Masters and Methods there are many examples of excellent technical descriptions that are understandable and don't leave you feeling mystified.  For example, Feng Zhiqiang's interview focuses on developing internal skill.  And, Chen Yu describes "total body integration" in a really profound way.
Explanations About Progress
I love how each teacher has his own way of describing progress through tai chi.  It is like reading several outside-of-the-box descriptions of the same thing so you are left with some pretty good ideas on how to move yourself to the next level.  For example, in Wang Xian's description of the Triple Principles of Tai Chi he describes three levels to transcend through.  I understood how I can be a better teacher to move my students through level one. I also found new areas of research that I need to do to move concretely from level two to three.
Non-Mechanical Focuses
I love the technical stuff but there is a healthy dose of really interesting concepts such as harmony, cultural elements, and the biggest opponent being yourself.
As you can see, Chen Taijiquan: Masters and Methods contains a variety of information on tai chi and is a great read for anyone starting out or practitioners wanting to fill in some gaps.  Kudos and thanks to Davidine Sim and David Gaffney for putting it together. It is available online and a great gift for tai chi practitioners or for you students when they complete the form.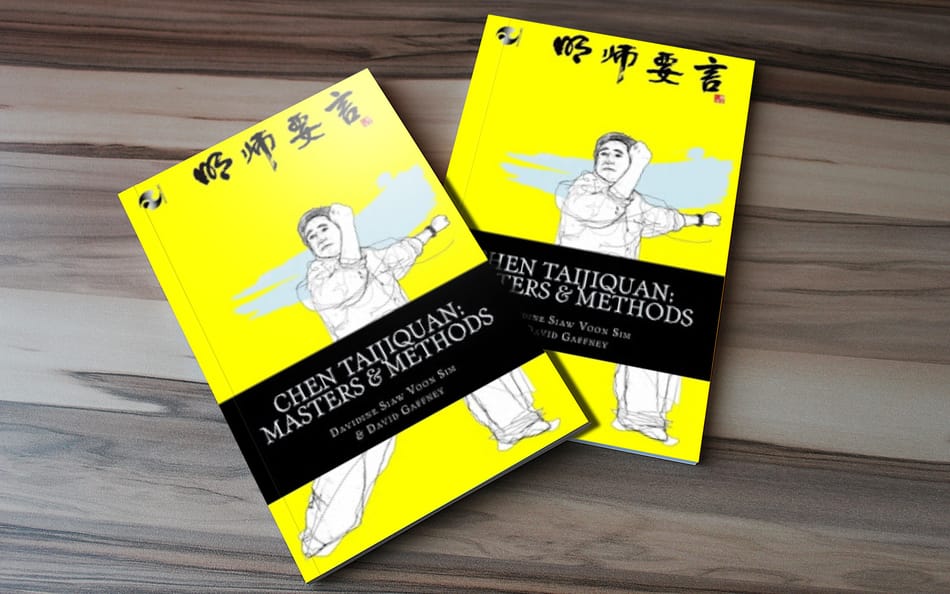 About the Authors
I do not know the authors personally, but it is obvious by their work and following that they have dedicated a huge chunk of their lives to transmitting the knowledge of tai chi to the west. Davidine Siaw-Voon Sim (Author), David Gaffney (Contributor) have been teaching Chen Style Tai Chi since the 1990s.  They are based in the United Kingdom and travel to China regularly to continually expand upon their training and learning.  They head up the Chenjiagou Taijiquan Great Britain school which has been honored as an extension on the main school in China.
---
Looking for more books to improve your practice? We have organized our favorites here: Best Tai Chi Books – By Style and Area of Focus