"The kinesthetic, auditory, and physical feedback of meditation tones enhance progress."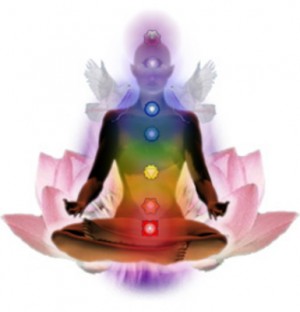 This article is intended to clarify how tones are used in meditative sets.  There is an immense world history of chanting, singing, and using tones in meditation.  No religion or spiritual pursuit is devoid of them.  Equally so, taichi and qigong have sets that incorporate tones into the practice.
I love debate and on this topic as it is sorely needed.  Let's present two scenarios.
Scenario 1:  A person learns the wrong use of tones, this leads to poor development, they miss the benefit, think it is malarkey, and quit before their progress takes off.
Scenario 2:  A person learns a qi gong set with meditative tones, the vibration makes them actually "feel" energy traveling in them, the kinesthetic, auditory, physical sensation keeps them highly focused, they benefit from the set's intent.
How did scenario 1 happen?  Here are my thoughts:
Poor instruction:  It is so easy to receive poor instruction on qi gong sets with meditation tones.  Not because it is difficult but because 1) newish sounds have to 2) occur specifically on an inhale or exhale with 3) the focus on a specific part of the body.  Teachers, this one is on us.  We have to make sure we are providing accurate instruction or taking our class or ourselves to a workshop. Not hard to do, just specific.
Wrong debate:  Debate IS needed but not on whether you inhale or exhale or think of organs or think of meridians, etc.  People tend to learn one tone set and then see it as the golden rule.  The truth is that all combinations of tones, organs, and meridians, are used in different sets for different purposes.  Let's keep the debate on accuracy of actions, not right and wrong.  I also feel there is no debate as to if tones are beneficial.  Tones are not part of every qi gong / meditation set.  However, if you have received instruction that includes tones, the difference is dramatic.   Here are a couple examples:
The Six Word Secret (lie zi jue)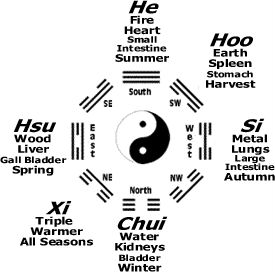 This is taken from Kenneth Cohen's extremely comprehensive The Way of Qigong.  The Six Word Secret is a Qigong set that is designed to expel negative or stagnant chi for the purpose of health or to make room for healthy chi to enter.  It is attributed to a Buddhist scholar from the 6th Century.  Six main organ systems related to health each have a corresponding tone. Imagine you are actually inhaling into the organ and emptying it out.  Inhale through the nose and exhale through the mouth, twice for each tone.
Yes figure out where your organs are!  (5 seconds on Google).  Trust me that eventually you will actually feel your organs but only if you are concentrating on the right place.
| | |
| --- | --- |
| Organ | Tone |
| Lungs | See-ahh |
| Kidneys | Chrroooeee |
| Liver | Shhhhuuu |
| Heart | Hoo  (like in hook) |
| Spleen | Who |
| Triple Burner (whole torso) | Seeeeeee |
Standing Pose with Meditation Tones
This exercise is taken from an October 2009 interview of Chen Youze from Kungfu Magazine.   It is designed to help draw chi down into the dantian in order to be built up and used.  The process involves standing meditation in horse stance, with the right hand in front of the heart and the left hand behind the back at the mingmen.
These meditation tones are thought, but not said, and breathing goes in and out of the nose because the mouth is closed.  Breathe deeply and feel the tone descending with the breath to the dantian.  All four tones would be considered one cycle.  Continue for approximately 20 cycles.
| | |
| --- | --- |
| Breathe | Tone |
| Exhale | Heeee |
| Inhale | Sheeeee |
| Exhale | Shuuuu |
| Inhale | Tschweeeeey |
In summary, meditation tones are used for specific purposes, are aligned with specific breaths, and relate to specific locations that they arrive at and interact with.  The hard part is not performing an energy set that includes meditation tones but in finding an instructor.
As you can see, there is nothing difficult about making a sound and breathing in and out.  Use of tones should be pursued because the feedback is great and it dramatically enhances your ability to pay attention.  However, proper instruction is mandatory when using tones or you cannot get the benefit that that tone set is designed for.
I know you're going to ask!  What else?  Along with meditative tones in your tai chi practice and qi gong you should also rethink your breathing and your posture.
Are you new to meditation?  Start here:  What is Meditation and Why Should I Meditate?